About the Trainer...
Vince Rambala grew up with dogs and spent most of his time learning how to train. Tired of seeing abusive trainers, he searched for and adopted a methodology using gentle, positive reinforcement as well as good old common sense. He apprenticed with a professional trainer and volunteered in an animals shelter for several years. 1992, he took his extensive knowledge and love for animals and became a professional dog trainer. Vince is the proud owner of two rescue dogs, Wyatt and Hope.
Vince uses the animal's natural behavior and instincts to achieve responses. Choke chains and prong collars are never used. The goal is for your dog to be a valued member of your family and welcomed everyone you go. Your dog should show no aggression and you should be able to touch your dog everywhere - ears, nails, etc. Vince's dog sleep on the bed and the couches. Spoiling your dog is fine - aggression is not. Vince is a certified New Jersey Animal Control Officer and a member of the Association of Pet Dog Trainers. He is proud to be a member of the Ringwood Volunteer Fire Company #1 Stonetown.
Wyatt
On March 22, 2009, Vince adopted a 1 year old Doberman named Wyatt (AKA Whisper) from All for the Love of Animals. You can read his incredible story on their home page under "Whisper's Journey". Wyatt is a gentle and loving soul. It's hard to believe he can be so incredibly sweet after all he has been through. Wyatt truly loves people and other dogs. We are very proud of him and happy to announce that he has earned his Canine Good Citizen and Certified Pet Therapy dog certification.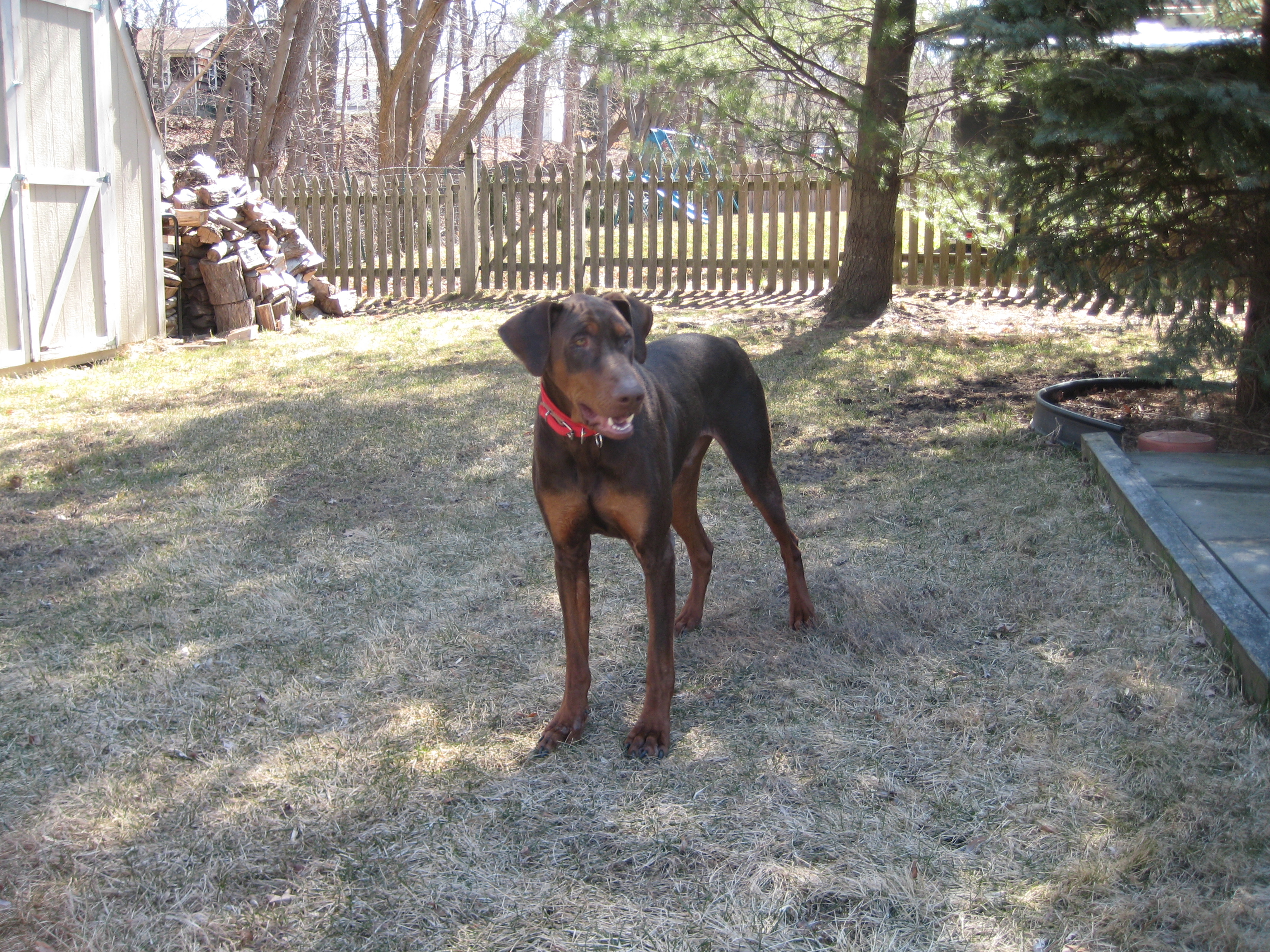 Wyatt in the backyard.
Hope
On October 24, Vince adopted 10 month old Hope (AKA Winter) from Gentle Giants. Hope is a sweet and loving Great Pyrenees who was found as a stray in Kentucky. Hope came to Gentle Giants with a badly broken leg and a bullet logged in her hip. All the abuse she has suffered hasn't stopped her from loving people and other dogs. She LOVES to socialize and do the agility course.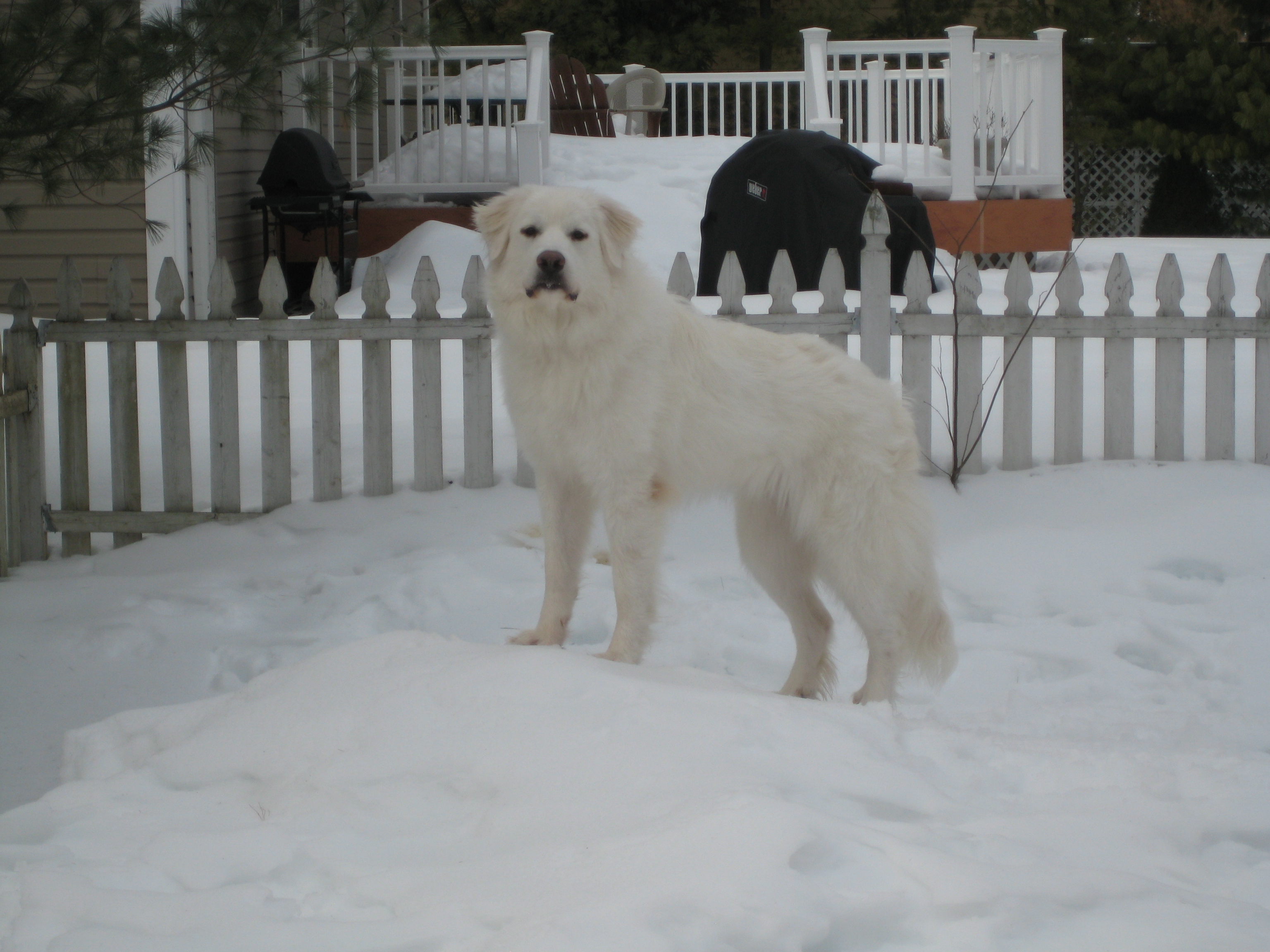 Hope standing on a snow mound.
IN LOVING MEMORY
Sedona
On May 28, 2005, Vince adopted a 6 month old Great Pyrenees named Sedona from Mid-South Great Pyrenees Rescue. Sedona is a sweet, loving and very funny girl. She loves everyone and everything - there is not a mean bone in her body. Sedona is a Canine Good Citizen and Certified Pet Therapy dog. Sedona suddenly passed on June 1, 2010. She is missed everyday.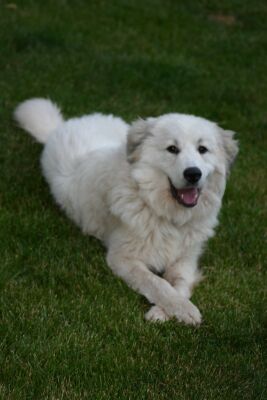 Sedona at 6 months old.
About Jack...
Jack was an 10 year old Doberman mix, found living in a parking lot in July 1998. Jack was extremely aggressive with men, children and other dogs. Vince worked with Jack and he became great with people (especially children) and other dogs. He even lived with another dog. Jack was a Canine Good Citizen and Certified Pet Therapy dog. Our beloved Jack passed on October 12, 2008. He is missed more than words can say.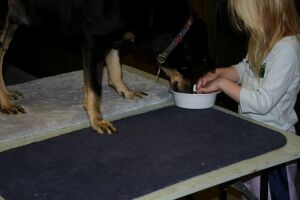 Jack, once very aggressive with children, letting a little girl play with his food in class.
About Aspen....
Aspen inspired Vince to become a trainer. It was because of Aspen that Vince took his passion for training and turned it into a professional business. Aspen loved to accompany him to private lessons and group classes. She was Vince's training partner and they were a great team. Aspen lost her fight with cancer on December 20, 2004. She is greatly missed.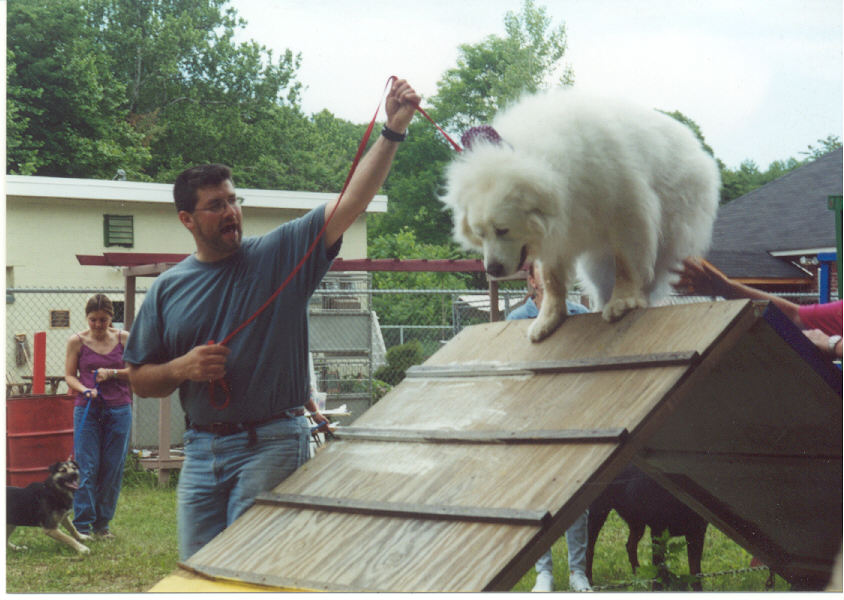 Vince Rambala Dog Training
P.O. Box 44
Oakland, New Jersey 07436
(201) 337-PAWW (7299)
pawws@hotmail.com
© Vince Rambala